Page [ 1. 2. 3. 4. 5. 6. 7. 8. 9. 10. 11. 12. 13. 14. 15. 16. 17. 18. 19. ]
Life of Okami's 鉄trenuous Efforts・
---Steps to the Opening of The website---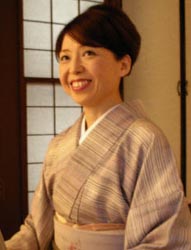 1. Greetings
・ Is your husband a Kimono dealer? Did your love of Kimono develop into the opening a Website Kimono shop?・
People around me who have seen me only in kimono often come to me and asked these questions these days.
In fact I had been a mere staff of a company through and through, leaving home early in the morning and come home late at night until the spring of the year of 2000. I was so immersed in the life making successful business plans and taking care of my boss's next day's business schedule.
I couldn't have thought think of changing my day to day life in suites and high heeled shoes.
Because I was leading my life as the secretary of my boss, I was thoroughly an ・Office Lady・
I'd be most honored if you would read this booklet and know that I, having gone through such a past life, went on the steps as 徹kami of a Kimono Dealer somehow or another with the struggle in a mess in the Kimono Industry.
In my twentieth, I had just a little bit of knowledge of 詮lower arrangement', ・Tea ceremony', and ・Dressing kimono' not knowing even names of a bustle of 前bi' and a ・bundle of 前bi'.
I couldn't have mentioned it before as I may have had a hesitation to expose it to public.
I quite working as an OL at the end of March 2000 and began my new carrier as a net-shop dealer in Sept. at the age of 45.
I hope you may get something out of this booklet of my tracks till the time of the birth of 前kami' of a net-shop.